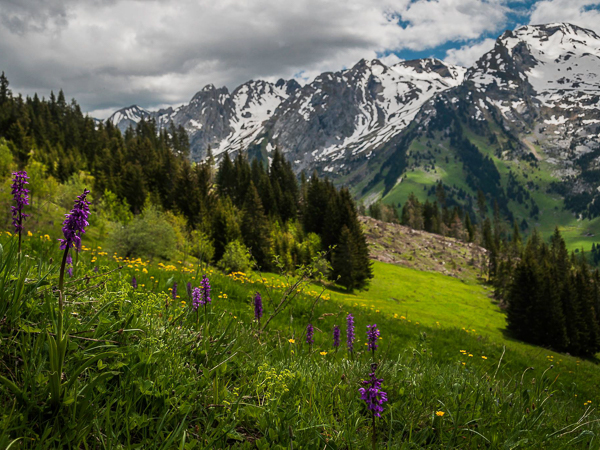 Tour operators are becoming more flexible, so as to better adapt their offers to holidaymakers' personal agendas. A user's guide.
A short trip to the mountains
Whilst the traditional concept of « one-week » holidays (from Saturday to Saturday) is still dominant during the winter season in the mountains, ski resorts and service providers are increasingly offering week-end or mid-week packages.
These are mostly offered outside the dates of school holidays (the so-called « low season »)… but not exclusively. Being flexible as regards departure dates nevertheless involves a certain amount of personal leg-work, using all the available resources with which to create your ideal programme.
In addition to surfing on websites, which list or compare last-minute accommodation and travel, – cut-price travel agents or low-cost airlines -, skiers looking for a specific destination can use an efficient reservation service (either on the Internet or over the telephone): many resorts now offer such a service, following the example of Houches, near to Chamonix  The official Ski France portal already enables all the useful contact details to be obtained (tourist offices and reservation services), as well as offering a « Great Deals » section.
However, it is not easy to find a truly all-inclusive package, including the journey from your place of departure, with the notable exception of Skimania – an operator which essentially targets young individually-minded people in the regional capitals of France (Lyons, Bordeaux, Marseilles) and offers competitively-priced weekends, with connections by coach: 2-day ski-pass, accommodation in a 4-person studio, from EUR 100, at la Plagne or 2 Alpes.
As regards transport, consulting the SNCF enables the most-strategically located train stations to be identified, that is to say, those which are near to a station served by the TGV: Grenoble for the Vercors, Bourg Saint-Maurice for the Tarentaise, Cluses or Saint-Gervais–Le Fayet for the Grand Massif and the Pays du Mont-Blanc… without forgetting Frasne station in the Jura mountains, which makes Métabief (25 km away), the downhill / Nordic ski resort which is the closest to Paris (journey time: 3h15).
As time is of the essence for short breaks, some resorts, such as Flaine or Val d'Isère, now offer the possibility of ordering, and paying for, ski-passes on-line, prior to departure. Similarly, major sports stores offer remote reservation (on the Internet) of ski equipment for hire: this is useful for avoiding queues at the resort. .
As regards accommodation, you should explore the search engines of the websites which are devoted to hotel chains, accredited gîtes, holiday village brands, or holiday residences. Everyone has their own preferences…
At Logis de France, family-run hotels promise a certain atmosphere, regional cuisine and attentive service. In the mountains, these small hotels are mostly located in the village-resorts or in the area surrounding the major resorts. On the website, you can find information on « short breaks » directly, the establishments where English is spoken, and at the end of March (subject to availability) a price of between EUR 90 and 180 per person for half-board in a small 2-star and 3 chimney (in-house classification) hotel in the vallée d'Abondance (connected to the Portes du Soleil resort), or at Monêtier-les-Bains (connected to Grand Serre-Chevalier).
On a more high-class note, the group of 23 hotel-chalets offer cosy décor and locations with character to its members. There are 3 or 4 * hotels at Morzine or la Clusaz, not forgetting Villard-de-Lans, Méribel or Hauteluce (Beaufortain), and even at the famous col du Lautaret, where perched at an altitude of 2,000 metres, there is the ultra-modern and astonishing Glaciers hotel, located in a grandiose and isolated setting.
www.hct.net
The concept of the stopover or holiday gîte – and that of bed-and-breakfast – is becoming increasingly popular, and there are many fine establishments in the mountains. Moreover, the packages are well-adapted to week-end breaks, whether long or not). You can find a 4-day, 3-night package in a 3-épis (quality charter) hotel for between EUR 180 to 208 per person.
Holiday residences are still favoured by the majority of families or groups of friends. Here again, service providers have begun to offer short breaks. For example, in the Hautes-Pyrénées: 2-room furnished accommodation for 4-5 people from EUR 64 per night at Pierre & Vacances, right in the centre of Saint-Lary, a modern resort, and a picturesque town.
Finally, the same applies to holiday villages, with networks of associations joining forces to increase the number of offers (Val and VVF villages, Cap France and LVT…). A night with half-board in a Cap France « 3 hearts » chalet at Tignes is usually available for between EUR 63 and 76 per person in March.
For die-hard sportsmen, and sportswomen, mountain guides or travel agencies specialised in trekking, have also reduced the duration of certain downhill skiing courses. You can now sign up with Allibert or with Terres d'Aventure for a non-strenuous mini-trek or a series of circular walks around a well-selected refuge – offering more comfort than the basic accommodation – for 3-4 days, starting at EUR 320 or 440 … provided you have been in regular training. The same applies for breaks based around the theme of « snow shoes », which are offered, in particular, by the UCPA, or by a network of « trekking artisans », called Vagabondages, which is well established in all the mountain
.Lakes and mountains holidays in France - Book a wonderful lakes and mountains ... Fly from: London Gatwick, London Heathrow, Luton, London City, Bristol, ....Discover great deals & prices from award-winning French Alps specialist Peak Retreats. Lakes & mountains summer holidays. Plan your trip with us. ABTA..Weekend ski breaks France - Chamonix tourist office : Holiday in Chamonix, French Alps. Prepare online your mountain holiday In Chamonix France and ...
Info : Short breaks in the french mountains - Images